Medici Ermete dates to 1890s, making them one of the oldest Lambrusco producers in Italy, having been in operation for 130 years.  In 2018 Medici Ermete converted from sustainable to organic farming, certified by CCPB.  Medici Ermete has special heritage and dedication to quality, so responsible farming practices are not new to them.  They have been farming sustainably for decades, specifically this means: no herbicides, no pesticides and no fertilizers.
The conversion to organic farming in 2018 officially takes three years.  This means that with the 2020 vintage, all 80 ha of Medici Ermete's estate vineyards will be officially be farmed completely organically.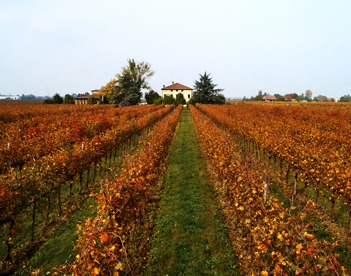 ORGANIC FARMING
Farming all estate vineyards organically since 2018, building on their long history of sustainable winemaking.
WATER CONVERVATION
Conserving water through an innovative water recycling system for irrigation.
ENERGY EFFICIENCY
Medici Ermete has signed on to reduce energy consumption by switching to more energy efficient fuels and machinery, where possible, and promoting an internal culture that places importance on the value of energy conservation