WASHINGTON STATE TERROIR
Washington state is the 2nd largest wine producer in US of Vitis vinifera grapes, with 45,000 acres planted – roughly the same as the Napa Valley AVA.  There are 13 appellations, from which 800+ wineries produce wines from over 40 grape varieties.  Washington state is a cooler climate growing region on the same latitude as France, with vineyards benefitting from a high diurnal temperature shift and abundant sunshine, for up to 16 hours per day.  The Cascade Mountain Range provides a rain shadow effect for Eastern Washington (which includes the Columbia Valley), receiving only 8 inches of rainfall annually.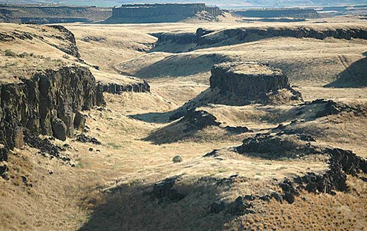 The unique soil compositions in the state were formed by the Lake Missoula Floods – a series of massive floods that took place over 12,000 years ago.  Lake Missoula was estimated to be 2,000 feet at its deepest point, with a volume of 500 cubic miles of water – as much as Lake Erie and Lake Ontario combined – leading to a flood flow rate estimated to be more than 10x the combined flow of all the rivers in the world. The floods redeposited massive boulders, cut through hillsides, and washed sediments throughout eastern Washington, leaving unique soils ideal for high quality vineyards.
VINEYARDS
Mullan Road Cellars fruit comes from vineyards in the soon-to-be-recognized Royal Slope appellation as well as from Seven Hills vineyard in the Walla Walla appellation.  Seven Hills, located along the southern edge of the AVA, was one of the first vineyards planted in Walla Walla in 1980, and is one of the most recognized vineyards in Washington.