Villa Matilde is the leading producer in Campania for quality, image and territory enhancement
The history of Villa Matilde began in the 1960s, when Francesco Paolo Avallone, a lawyer with a passion for ancient wines and an abiding interest in the "vinum Falernum" described in the accounts of Pliny and in the poetry of Virgil, Martial, and Horace, decided to bring that legendary wine back to life. It had disappeared in the early 20th century. After years of study, Francesco discovered the grape varieties that had produced Falernum in Roman times. He then re-planted the handful of vines that had miraculously survived devastation by phylloxera in the late 19th century, right in the Monte Massico area where they had flourished in ancient times, and he then founded Villa Matilde.
"Wine is a work of art for us: Our wines create emotions and are the result of agricultural work and noninvasive wine making. As wine producers we draw on the natural resources, we emphasize grape varieties and terroir. This way we become, together with our wines, part of the environmental, geological and climatic context."
– Francesco Paolo Avallone, Founder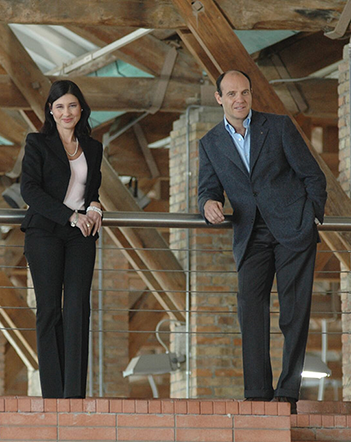 KEEPERS OF HISTORY
Tradition, culture and a great love for the terroir: this is where the history of Villa Matilde starts. Half a century of commitment to every sip of the authentic taste of the fertile countryside of Campania. Daily research to make quality wines, balanced and elegant, with the ability to tell the story of the most interesting aspects of Campania enology.
ONE STORY, ONE FAMILY
Today, Villa Matilde is led by Maria Ida and Salvatore Avallone, the children of Francesco Paolo. Heirs of the great adventure undertaken by their father, they lead the company with absolute dedication to respect of tradition and terroir. With them works a young and close-knit team, engaged in both the viticulture and constant innovation of the brand.