Their production is very small—only 5,000 cases per year, as of 2019.
Hakuto Brewery Information
The Hakuto Brewery is located on the tip of the Noto Peninsula of Ishikawa prefecture in the small, artisanal town of Wajima.  Despite its remote location, Wajima is well-known in Japan because it is a prized center for "nuri," Japanese lacquerware.  Hand-crafted, detailed, and beautiful, "Wajima-nuri," is a cherished art form in Japan.
Founded in 1722 and now managed by the 9th generation of the Hakuto family, the Hakuto Brewery embodies the spirit of craftsmanship and elegance as their neighboring artisans.  The brewery is a family-run business in the most complete sense.  The husband and wife team of Yoichi and Akiko Hakuto met at the Tokyo University of Agriculture Brewing Institute.  Yoichi attended Tokyo "Nodai" so he could take over his family's business as the 9th generation owner.  Akiko went to study sake making because of her love of sake.  Today, they brew sake together, manage and promote it together.  Entering the brewery, their store is often attended by other family members.  Their home is connected, as well.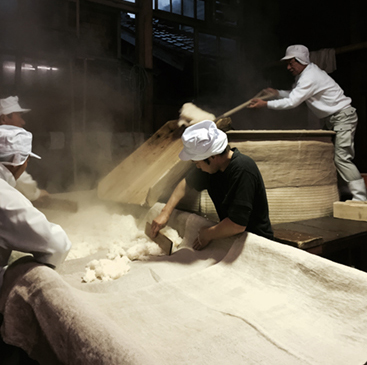 Ishikawa prefecture has an important place in the sake world.  It is known for rich and gamey "yamahai" method sakes.  It is also known for clean and fruity ginjo style sakes.  With its neighbors, Fukui and Toyama, Ishikawa makes up the Hokuriku district.  Together, these three prefectures are known for the contrasting styles of earthy yamahai and clean ginjo.
Hakuto embodies a clean, delicate, and elegant style.  It is layered, graceful, and sophisticated.  While there are differences between their sakes, Hakuto generally expresses a sweet, toasted rice flavor and aroma.  As the brewery says, their sake has a soft umami balanced by slight acidity.  These balancing elements make Hakuto wonderful with food or on its own.  Hakuto is a pretty sake, perfect for wine drinkers who like sophisticated, medium to high acidity wines.
The Noto Peninsula, in addition to being famous for the town of Wajima, is also known for its wonderful fish.  Because Noto is the tip of Ishikawa on the Japan Sea, the area has a wide range of fresh, seasonal fish.  Most notable are crab in the spring, abalone in the summer, "fugu," or blow fish, squid, and other fish which are great for sushi and sashimi.  Along with Sado in Niigata, Noto is registered as a world agricultural heritage site for its fish.
To start, we are introducing Hakuto Tokubetsu Junmai, which embodies their house style.