France
Atop the hierarchy of Beaujolais Crus are Moulin-à-Vent and Morgon, with notable aging potential. Often called the most "Burgundian" cru, Moulin-à-Vent shows complexity, finesse and length, while Morgon is the most robust and structured. Château des Jacques Moulin-à-Vent can age at least 10-20 years; Morgon can mature a minimum 5-20 years. Purchased by Maison Louis Jadot in 2001, this south- to southeast-facing vineyard is situated on the slopes over the village of Villié Morgon. It covers 87.5 acres of the Morgon appellation, one of the 10 crus of Beaujolais. After vinification, the wine is matured in oak barrels before bottling.
91 Points
VinousMedia.com
2013 vintage
Harvest Note
The 2013 harvest happened two to three weeks later than in recent years. This was due to France's cool and rainy spring, which delayed flowering until mid- to late June. Grapes were harvested in late September and into October, when temperatures were cooler and daylight hours shorter. Due to the conditions of the growing season and harvest, Beaujolais wines seem to have a little bit more grip and length than is typical for the wine.
Tasting Note
A deep cherry color with red fruit aromas and flavors, typically high acidity and notable tannic structure.
Technical Data
GRAPES: 100% Gamay
APPELLATION: Morgon
PH: 3.45
ACIDITY: 3.40 g/l
ABV: 12.55%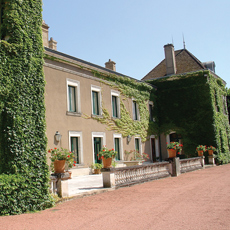 "A good wine is a drink that tastes good; a great wine is alive."
Cyril Chirouze, Winemaker