Michel Redde's Pouilly-Fumé and Sancerre capture the diversity of soils in these regions, each type giving a particular complexity to the wine.
La Moynerie
The 85-acre estate vineyard is situated in the heart of the appellation on the crest of a hillside overlooking the Loire River, exposed directly to the south. The soils in which the Sauvignon Blanc is planted vary, checkerboard fashion, between two types: chalky clay soils, which yield wines of elegance, harmony, concentration and longevity; and clay and silica soils, tending in color from red to blue-black, which produce nervy, vibrant wines with the "gunflint" character typical of Pouilly-Fumé. The best vineyard sites lie at relatively high elevations of up to 1,000 feet, and in cool springtimes, frost is a constant threat. Michel Redde's Pouilly-Fumé "La Moynerie" is produced from the estate's younger vines, which, benefitting from the vineyard's southern exposure, yield a ripe, intensely perfumed wine of quintessential typicity.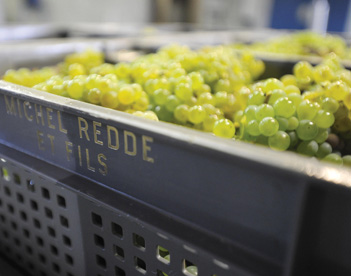 Sancerre
Michel Redde's Sancerre, Les Tuilières, is produced from grapes and musts purchased from numerous growers with whom the family has done business for years.
The Sancerre appellation is characterized by three soil types: the "caillottes," pebbly chalk and limestone soils; the "terres blanches," chalky clay and marl soils; and the "argilo-calcaire," limestone, clay and silaceous sandy soils. The caillottes produce fresh, fruity, lively wines; the terres blanches, less prevalent in Sancerre than in Pouilly, produce wines of body and structure; the argilo-calcaire soils produce wines of less finesse and elegance but are responsible for the minerally notes typical of Sancerre. The most balanced wines are produced principally from the caillottes, which bring out the dry, refreshing acidity of the Sauvignon Blanc, and the terres blanches, which lend it depth and complexity.