Belle de Brillet is a beautiful blend of Brillet Cognac Eau de Vie from the heart of the Cognac region, "Poire Williams" and a 'special plus,' a secret ingredient.
Points of Distinction
About twenty pounds of pears are required to produce each bottle
The "special plus" refers to the secret ingredient closely guarded by Maison Brillet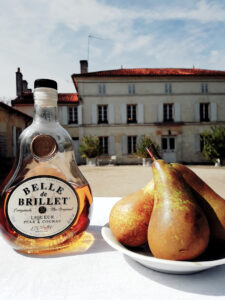 Belle de Brillet is a brilliantly harmonious marriage of aromatic Williams Pears and the delicate, fruity Brillet Cognac. The liqueur is cork finished and presented in an elegant pear-shaped glass bottle and has become a favorite of gourmets, distinguished palates and bar chefs around the world. Maison Brillet is the owner of 65 hectares (150 acres) of vineyards lying between the heart of the Grande Champagne region of Cognac and the banks of the River Charente in the Petite Champagne area. This tenth generation, family owned company, Maison Brillet, proudly produces, distills and bottles the famous Belle de Brillet Pear Liqueur.